Thailand : Bangkok Travel Introducing.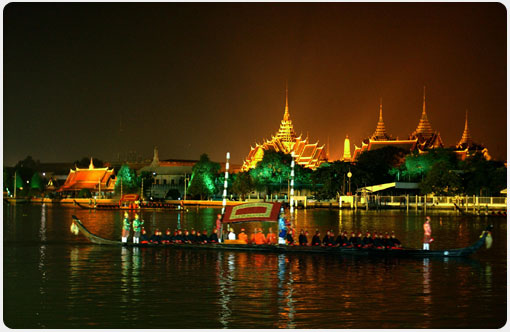 Wat Phra Kaew Temple
Bangkok
is very highlight travel cities in
Thailand.They call this city "The City of Angel" have fancy market,Fantastic place in The World.
Wat Phra Kaew
Temple is the great place to visit.You
will see many locals at this Temple, as you will at all of the temples on Thailand's tourist track.
Temples are not though the only places that Thailand's History and culture that are worthy of travel.
Platinum Fashion mall
Shopping is lifestyle in Bangkok.
Chatuchak Weekend Market
is largest street market in Thailand.They call "
JJ Market
".This market offer varity products.clothing,handcraft,food,handmade product,antique product,animal and plants.
The Platinum Fashion Mall
is huge shopping mall in Pratunam made up of various clothing and accessories.
Khao San Road
is Nightlife Place with a large number of tourists. Both in Thailand and overseas. Who come from many countries around the world. The streets are filled with many different products on the cheap such as handbags, shoes, clothes, watches, leather pants, sheet music, as well as restaurants. Various services and a full range of salon manicure telephone. International long distance calls. And the Internet.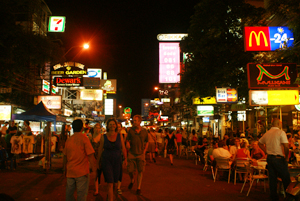 Khao San Road
How to Travel in Bangkok
BTS Skytrain
THERE ARE TWO BTS LINES:

SILOM LINE runs west to south, between the National Stadium in the Siam shopping area to Wongwian Yai in Thonburi (across the river), while
SUKHUMVIT LINE runs north to east from Mo Chit to Bearing. The two lines meet at Siam Station, and also interconnect at two points with the underground (MRT) – at Sala Daeng and Asok stations. A new train arrives every 3 - 6 minutes or so between 06:30 and midnight. The last train leaves between 23:30 and 23:50
Cost : 15-50 Baht.
BANGKOK AIRPORT RAILLINK
The Airport Rail Link (06:00-midnight) that connects downtown Bangkok with
Suvarnabhumi International Airport
is a smart alternative to the airport's express buses or taxis. The two SA Express routes can get you to the airport (or downtown) in 15-18 minutes
Cost : 15-40 Baht.
BANGKOK MRT
Fast and efficient, the Mass Rapid Transit network (MRT) serves 18 stations and stretches for 20 km in a horseshoe shape from Hua Lamphong in the South (near Chinatown) to Bang Sue in the north. Trains arrive every 5-7 minutes
Cost : 15-40 Baht.